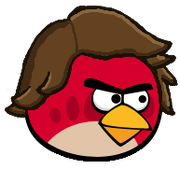 "Hey good lookings, what's cookings?" 
- Zoey's Catchphrase.
Zoey is a Lewis' girlfriend. She is a bit of a tomboy and a keen adventurer. She makes her first appearence in Subject of Time: Episode 4. 
Personal Details
Full Name: Zoeya Beakenski
Aliases: Zoe, Zoey, Zowee (by Hamm).
Personality: Cheerfull, Inventive, Adventurous, Imaginative, Likeable, Shy (Sometimes!), Occasionally Clumsy
Current Place Of Residence: Redmond Manor, Franks Household.
Quotes
"Cool as a cucumber, Awesome as an...urm...urr...urm...an...oh, I know... an awesome thing."
"Ooh! Ooh! Lemme see!"
"Fantastic!"
"-Insert Cool Thing Here-"
"Oh Heck!"
"HECK YEAH!"
"Ooh! I can have a jet-pack, and lasers that go PEW PEW! Ooh! And I can have a hoverboard!"
Facts
She is an amazing singer, like Lewis.
She is a jedi.
She is good friends with Daniel, due to a passion for science.
She makes a great team when paired with Tyler and Lewis.
Her favourite colour is purple.
She finds Lewis Jr cute.
She is good friends with Muna.
As she grew up, her feathers turned from pink to red. Like how Daniel's feathers turned from yellow to red.
She is due to appear in more stories soon.
Zoey's parents dissapeared one day when she was 3, so she doesn't remember them.
Her "hair" is due to her being a special species of red bird that grows hair.
Her dad was a member of the greatest gang in Pig City.
Gallery