Victor is a good pig that just delivers pizza around Angry Birds Island. He is friends with most birds on the island and he is always nervous and confused when he delivers pizza to a house. He is only a 14 year old pig, so he's a litt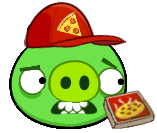 le young to have a job. He works at a pizza place with very good food, but bad customers and service. That's why he is confused when he is taking orders. The customers never be specific towards him for an unknown reason, maybe most people just don't like him. Victor's whole family are actually good pigs, and his family is also very, very, very rich, except Victor. Victor makes a 100 dollar payment each week total, while his dad makes an 10,000 dollar payment each week total. Daniel took a liking to him.
Ad blocker interference detected!
Wikia is a free-to-use site that makes money from advertising. We have a modified experience for viewers using ad blockers

Wikia is not accessible if you've made further modifications. Remove the custom ad blocker rule(s) and the page will load as expected.