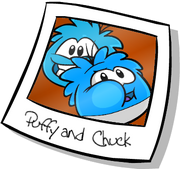 Wazzup, Bird Lovers? This is the new page for all my blog posts, so be sure to check back whenever it's updated. Here I will talk about what's been going on with this wiki, Angry Birds, Club Penguin, or just how life's going with Autumn and the family! The best part is at the end of each post, Chuck and Puffy (my two blue puffles) will leave their comments! So, what're you waiting for? Read on! Peace! - Ryan T. Yellow Bird (talk) 20:10, August 11, 2012 (UTC)
Chuck: This is awesome! We're finally famous!
Puffy (Riding Ashes like a cowboy): What?
Introducing: ABSW Parties!
Hey, Bird Lovers! Rye here. Lately me and Daniel have been discussing on chat some cool things we could start doing on the wiki, and I came up with this idea that sort of takes after Club Penguin and their montly themed parties. You know, there's the Music Jam Party, the Adventure Party, The Holdiay Party, and all that good stuff? Well, we're doing something similar. To start of, we're launching the first ever PIG PARTY (oh that sure sounds cool) this month in honor of the newly released Bad Piggies game!. For details check the homepage. We will create another super long story like Avengebirds (which is still in the works, BTW) and hopefully it will attract attention! But wait, there's more. I'm having a hard time coming up with a name for the story, so I turn to you guys. Think up a creative story name that fits a pig takeover. Once we get atleast 5 ideas, we'll choose our favorite and create the page. Well, that's all for now, and may all your pigs be green! - Ryan T. Yellow Bird (talk) 20:10, August 11, 2012 (UTC)
Update: This has unfortunately not worked out.
Chuck: Cool! Now we can celebrate a different theme every few months!
Puffy: Will there be a puffle party?
Chuck: How should I know? Ask Ryan.
Puffy: WAAAAAAAAAH!!!!!
Daniel Disappearance

Alright, I know you're all weirded out that Daniel's gone suddenly. I was there when it happened, so let me explain: I was chatting one day with Daniel when his mom came on. She said that she was taking away his chat (not sure why) and that he had something big in school he needed to study, and so he would be gone a while. I don't know how long, I don't know when he's coming back, much less if he even IS coming back (though I hope he is) but I've told you everything I know. I'm just as confused as you are, but all we can do is wait and hope. Also, recently someone created a VERY insulting and preverted story with even MORE gross and preverted pics! Also, Daniel being gone gave who I think was the same guy the green light to edit his userpage into something ELSE gross and preverted. Seriously people, this is a KID'S wiki! If you happen to see anything else like this, PLEASE let me know, as me and Tyler are VERY upset, and I'm sure Daniel would also be if he where here right now. Thank you for your time. Ryan T. Yellow Bird (talk) 23:09, August 25, 2012 (UTC)
Chuck: I hope Daniel comes back soo-
Puffy: DANIELPLEASEPLEASECOMEBACK!!!!!!!!
Cutest Character Contest
Whazzup, Bird Lovers? It's Rye here and I have a question for you- WHO IS THE CUTEST CHARACTER ON THE WIKI? Here are the nomonies:
SEEYA! -RTYB 04:14, March 14, 2013 (UTC) 'Puffy: 'Ooh! Ooh! Who's gonna vote for me?
Chuck: You're not in the contest, Puffy.
Puffy: Awww... I never get to have any fun....
Ryan 2.0
Hello again, Bird-Lovers. Say hello to Ryan 2.0:
So basically, now I will be DRAWING all the pictures I make with the help of Photoshop (Thanks Daniel!)
And I wear glasses. Glasses are cool.
I will now be a bit more serious of an admin (sorry, guys!) but that's just to try and keep the wiki under control. I may also not be on as much, as I'm thinking of starting to contribute part-time on Angry Birds Fanon to spread our characters out there a little bit and become friends instead of competitors with other Angry Birds Fanon Wiki. That's all for now, see ya guys.
-RTYB 01:59, March 30, 2013 (UTC)
Embedding AB Friends Levels?
Just a little test.
Hey, it works!
-RTYB 23:52, July 1, 2013 (UTC)
Puffy: Woah! Now we don't need facebook to play Angry Birds!
Chuck: Uh, what about Angry Birds Chrome?
Puffy: Um, what's that?
Chuck: The world has officially forgotten about AB Chrome. :(
Puffy: What is it? Sounds old.
Chuck: Sigh.
An Angry Bird Story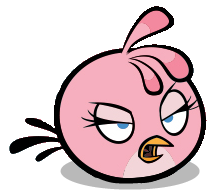 Soon I will get to work on a very important project. This might just be the biggest story ever done on Angry Birds Story Wiki. Called "An Angry Birds Story", this will be our 
most epic adventure yet. In it, we are sailing to Sleuthwing Island on Daniel's ship when a storm strikes and sends us to a remote isle in the middle of nowhere! However, there are secrets to this small patch of land. Through it all, the birds will go on an epic quest, discover a new enemy, learn to put their differences aside, and work together to try and get back home. This story is also very revealing, as we will learn the softer side of Stephanie and take a journey into the hearts of a few birds. Trust me, this is one thing you don't want to miss! I will begin working on it later today or tommorrow. Stay tuned!
-RTYB 14:29, July 16, 2013 (UTC)
Chuck: I wonder what he means by the "softer" side of Stephanie?
Puffy: I think they like each other!
Chuck: ...Really.
Ad blocker interference detected!
Wikia is a free-to-use site that makes money from advertising. We have a modified experience for viewers using ad blockers

Wikia is not accessible if you've made further modifications. Remove the custom ad blocker rule(s) and the page will load as expected.