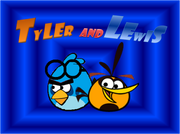 In the first in a series of new stories, Tyler and Lewis with some help from Daniel create a time-machine.....out of a Delorean?
Chapter 1: The Note
It was a peaceful day at the Franks family residence. Lewis and Tyler were home from watching Back To The Future at Uncle Jack's mansion and Lewis was mumbling and drawing something. Tyler looked at him. "Hey bro, what are you drawing?" Tyler asked curiously. Lewis looked up, mumbled the word nothing, then returned to the drawing.
The next day, Lewis was gone early, leaving Tyler a note that read.
Hello Brother,
I am currently out working on a project. So meet me at Redmond manor. When I tell you on this communicator watch left on this note.
Lewis.
Chapter 2: A Plan
Coming soon!
Ad blocker interference detected!
Wikia is a free-to-use site that makes money from advertising. We have a modified experience for viewers using ad blockers

Wikia is not accessible if you've made further modifications. Remove the custom ad blocker rule(s) and the page will load as expected.