The Fat Pig is a restaurant set up by Andrew. It's symbol is a Fat Pig with a knife and fork, wearing an apron and a chefs hat with the word The Fat Pig under it.All the food is a certain type of pig, except dessert. The name and sign are based on Fat Pig.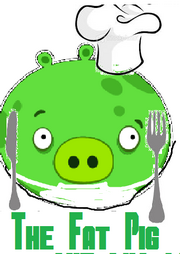 Employees
Andrew (Owner)
Evan (Cashier)
Kashy (Cook)
Menu
Startes
Spare ribs- $2
Bacon Strips- $4
Gammon bits- $9.50
Snout and tail- $0.25.
Snout and tail (large and high quality edition)- $5
Mains
Pork chops-$4
Bacon sandwich-$5
Boiled small pig-$8.50
Boiled medium pig-$16
Boiled large pig-$22.50
Fried small pig-$8
Fried medium pig-$16
Fried large pig-$21
Helmet pig cooked in it's helmet-$18
Desserts
Ice-cream 1 scoop-$2.50
Ice cream 2 scoops-$4.50
Sundae-$5
Jelly sticks and yogurt-$5
Shortbread Biscuit-$2.75
Drinks
Water-Free with the meal
Small Fanta-$3.95
Large Fanta -$5.95
Small Sprite-$3.95
Large Sprite-$5.95
Ad blocker interference detected!
Wikia is a free-to-use site that makes money from advertising. We have a modified experience for viewers using ad blockers

Wikia is not accessible if you've made further modifications. Remove the custom ad blocker rule(s) and the page will load as expected.