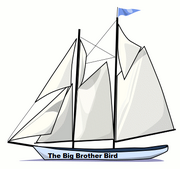 The Big Brother Bird is a Schooner built by Daniel, It Appears in Free Shipping, where the Birds take the Pigs' Food and Sail Away. And it Appears in many stories where the Birds are Traveling.
Appearance
It wa used for a long time in the June 2012 show of Angry Birds, and was also present  in 2013 at the sinking of the RMS Hornbird, which was huge and dwarfed the Schooner.
Ad blocker interference detected!
Wikia is a free-to-use site that makes money from advertising. We have a modified experience for viewers using ad blockers

Wikia is not accessible if you've made further modifications. Remove the custom ad blocker rule(s) and the page will load as expected.