Stand Up (And Take It!) Is a song by the Golden Slumbers.
The Song
Put on the headset, get on the stage Out on a midnight escapade Didn't want to steal your thunder Wouldn't want to play your game Makin' all the headlines Gettin' on the front page Didn't even know her number I didn't even know her name

Chorus:
Stand up, stand up and take it Stand up, stand up and make it Stand up, stand up and face it Stand up

Guitar Solo

Repeat chorus

(you can make it)

Repeat chorus
Artwork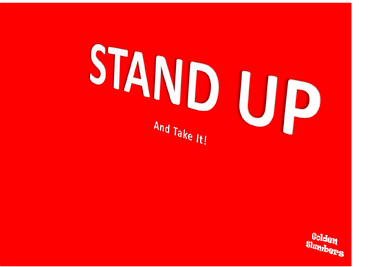 Ad blocker interference detected!
Wikia is a free-to-use site that makes money from advertising. We have a modified experience for viewers using ad blockers

Wikia is not accessible if you've made further modifications. Remove the custom ad blocker rule(s) and the page will load as expected.