Strawdina h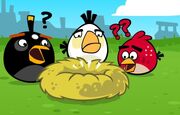 ad just lain her first ever clutch (Daniel is in this Clutch!) and now it had Disapeared! Arnold looked sadly At Strawdina's nest. and Blacky was Bewildered.(this is Before he replaces Coco, that happens in Danger Above) Paulie squawked in anger. they all turned around. the Pigs Had Strawdina's Eggs! Little did they know a pig hid One below ground (Daniel) The Birds Started Killing Pigs Like Crazy. Finally, they Found the Queen. they Killed her and Got the Eggs back Edna cried when she came to her own Nest. "One of MINE is missing!" Strawdina came over and rolled one of her's to Edna "Here, Take One of Mine." Strawdina said. when the Eggs Hatched, two weeks later, Edna was Subspicious. she called Strawdina over. "all of my Eggs are White Birds, even the one YOU gave me, Where did you get my Egg?" Strawdina stared "i have No Idea. wait, Then the Pigs have one of MINE!" Strawdina said, then Bursting into Tears.
The End, Sadly.
Ad blocker interference detected!
Wikia is a free-to-use site that makes money from advertising. We have a modified experience for viewers using ad blockers

Wikia is not accessible if you've made further modifications. Remove the custom ad blocker rule(s) and the page will load as expected.