Piggies is a song by the Golden Slumbers, and Tyler wrote it
The Song
Have you seen the little piggies Crawling in the dirt And for all the little piggies Life is getting worse Never having eggs to be eatin'.
Have you seen the bigger piggies In their starched ginormous sizes You will find the bigger piggies Stirring up the dirt Always have some wood bricks to play around in.
In their cities with all their backing They don't care what goes on around In their eyes there's a thing they like, the pig What they need's some dang good egg..
Everywhere there's lots of piggies Living piggy lives You can see them out for dinner With their piggy wives Clutching forks and knives to eat their cardboard eggs..
Artwork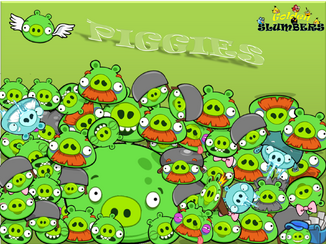 Ad blocker interference detected!
Wikia is a free-to-use site that makes money from advertising. We have a modified experience for viewers using ad blockers

Wikia is not accessible if you've made further modifications. Remove the custom ad blocker rule(s) and the page will load as expected.