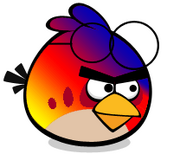 Daniel Got Fed up after a While, a Pig Threw a Beam at him. his Colors changed, Iceblast and Flammable Stared Hard, he looked like the Sunset! He launched At the Castle, When He hit,Color flew EVERYWHERE The Pigs Disappeared as the Light and Buzzing stopped. Flammable and Iceblast looked at Each other. Daniel Stood Next to a totally Different Goggle Bird, They Heard Yelling From inside the bird, They Knew What Had Happened now. He had the Ability to eat pigs. Another Gradient feathered Bird Peaked out, it Came in All Colors. it looked at Daniel, Sunset, Flammable, And Iceblast with a Curious Look.
What Will this Bird do? Will he Attack? will he Team up? Find out in Part #5
Ad blocker interference detected!
Wikia is a free-to-use site that makes money from advertising. We have a modified experience for viewers using ad blockers

Wikia is not accessible if you've made further modifications. Remove the custom ad blocker rule(s) and the page will load as expected.