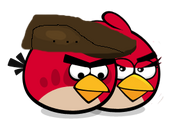 "I know you, i've seen you alot around the Village, but you never saw me"  
"Excuse me, but when? When i'm fighting villians or what?"
- Julia and Daniel
Julia (often called Julia Gardula as to her last name) is one of Daniel's fans. She appears shortly after Muna breaks up with Daniel. She claims to have taken pictures of Daniel for 2 years straight without him ever seeing her.
Angry Birds Toons
In Angry Birds Toons, Julia is a deeper character. At the end of 'His Biggest Fan', she trades all her infomation for one of Daniel's feathers. She Reappears in 'The Secret' as a main character.
Ad blocker interference detected!
Wikia is a free-to-use site that makes money from advertising. We have a modified experience for viewers using ad blockers

Wikia is not accessible if you've made further modifications. Remove the custom ad blocker rule(s) and the page will load as expected.