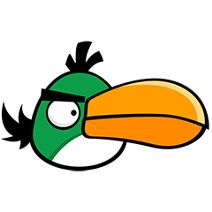 Hal 
is a mysterious boomerang bird who has recently settled on the island. He is due to make his first appearance soon.
Personality
Hal is a wonderer. He lives in a tent and tends to survive from 'Mother Nature'. He is generally an easy going guy, who likes to make others smile. He is a down to earth southerner, speaking with a southern american accent. He is an amazing story teller, as revealed in the narrative comic book series called The Hal Chronicles. He is clumsy but brave.
Trivia
Hal used to travel around the island, but he has settled down now.
Hal is 35 years old.
Hal was part of the original gang.
The younger birds call him "Uncle Hal"
He doesn't have a last name.
He has a dark secret that will change things forever.
He looks similar to the Green Agent.
Ad blocker interference detected!
Wikia is a free-to-use site that makes money from advertising. We have a modified experience for viewers using ad blockers

Wikia is not accessible if you've made further modifications. Remove the custom ad blocker rule(s) and the page will load as expected.