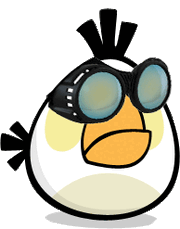 As much as you fight it, mothers are always right. Mine has been telling me for about a year, "I don't get it. What are those circles on top of your bird's head?" I say, "Goggles!"
Well, tonight, she sent me to bed early. And then she took over my computer. I guess she wanted to show me what real goggles were. So here's my mother's version of goggles........
Yeah. Moms are always right. Get used to it, Dudes. Because it is so good training for wives....
(Daniel got sent to bed early for Bad Behavior. This is "MOM" "ghost-writing". What could be better for Halloween. Mur-ha-ha-ha-ha-ha-..........
Strawdina
Ad blocker interference detected!
Wikia is a free-to-use site that makes money from advertising. We have a modified experience for viewers using ad blockers

Wikia is not accessible if you've made further modifications. Remove the custom ad blocker rule(s) and the page will load as expected.