Dr. Hoot-Hoot is an evil owl scientist who spent 10 years doing scientific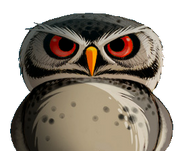 studies. He went around the world but got stranded on Angry Birds Island. He'd rather be taking over the island alone than working together with Fireworks Dave, because he ruined one of his inventions by stepping on a, "SELF DESTRUCT" button (it's unknown why he put that button there).
Ad blocker interference detected!
Wikia is a free-to-use site that makes money from advertising. We have a modified experience for viewers using ad blockers

Wikia is not accessible if you've made further modifications. Remove the custom ad blocker rule(s) and the page will load as expected.