Meanwhile, the REAL Daniel, with Ryan and Tyler had just gotten back from Vacation, only to see an empt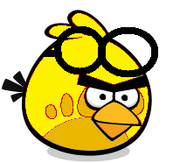 y village. Daniel looked around Sadly, Then they noticed Flammable Shivering inside a tipped train. "Are You Ok?!" Ryan asked, Flammable just Shook No. Later, they Came upon Poppy, Damaged inside a Train, Injured. he Tended Her carefully, then Continued. Daniel saw Mighty and Strawdina Talking. Stoney was Quivering on the Road. Daniel watched his Mother go inside the hotel, and slowly followed. "Ryan, go see what they're saying," said Tyler. Ryan silently zoomed to where they were, and heard their Discussion. as Daniel and Tyler crept in, Strawdina watched. as Daniel peeked out the window, SHE PUSHED HIM NEARLY OUT! Grabbing his Top Feathers. she Glared at him. "ok Pig,WHERE'S DANIEL? and Don't Try Lying!" Daniel Quivered. "what do you Mean? i'm right here!" he Said, hoping his mother would snap out of it. Strawdina's Grip loosened. "nice Try Pig. i know your not Daniel, NOW WHO ARE YOU?! WHERE'S DANIEL?!" She Yelled. Black Bird came down Staring. daniel tried to Save himself, but Strawdina was too Blinded by anger. "all Lies, Bye!" She Dropped Him. Daniel Screamed. Tyler ran over to her. "Aunt Straw, that WAS Daniel!" "DANIEL?! SHOOT!" she dashed Downstairs, attempting to Catch him. daniel was near Death, luckily Terrence was below him. he bounced off Terrence and flew towards the concrete wall when FWOOM! Ryan zoomed by in the nick of time and caught him. Strawdina jumped on top of mighty, then grabbed Daniel and Kissed him. the Fake Daniel stared, he had been exposed. Black Bird saw Fake Daniel's Zipper, and pulled it, he pulled the costume off. Mighty Smiled at Daniel, Tyler, and Ryan, then Watched Black Bird destroy the fake Daniel, and the Dark pig perished instantly.
The End!
Ad blocker interference detected!
Wikia is a free-to-use site that makes money from advertising. We have a modified experience for viewers using ad blockers

Wikia is not accessible if you've made further modifications. Remove the custom ad blocker rule(s) and the page will load as expected.