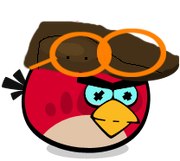 Daniel Doll is a Toy seen on Club Bird, and as Eggboy's toy in the Episodes. He has Blue Buttons for Eyes, revealing Daniel's Eye Color is light blue. in Angry Pigs, Daniel Doll is a replacement for Daniel during "Toy Land". he may be one of Strawdina's works, because the hat is sewn on instead of loose,as with the goggles.
Ad blocker interference detected!
Wikia is a free-to-use site that makes money from advertising. We have a modified experience for viewers using ad blockers

Wikia is not accessible if you've made further modifications. Remove the custom ad blocker rule(s) and the page will load as expected.