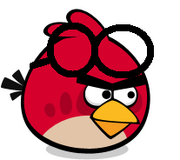 This was a scary thought. i had NO idea this would happen. i just said "i have no idea what caused this, how did this ever happen?" i hopped outside to collect myself. i told myself, "I'm 11 human years, i would be an adult if i qualified!" i would be, but i'm not because 11 bird years is the same in human years. i know i'm no Adult yet, and i know it's a long way away. but it's already done. "if there's a boy in that clutch, he will be the Heir to my lab, i'll teach him my experiments.
Chapter 3
in two weeks, they would hatch. i knew there would be a pink Goggle Bird, and maybe different colors. some thing occured to me, there would be a boy. there were markings on the eggs, and one of them had a walnut-colored stripe, obviously a sign of a male.
what will happen? find out in part 3!