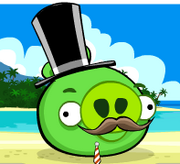 Carl is a pig, but don´t get angry already! He´s a good pig.
Carl

Carl, the good piggie

Gender:

Male

Size:

Small

Power:

Sleeping

Affiliations:

Tyler, Ryan, Ernie, Speedy, Daniel

Relatives

Fred (father) Lewis (brother) Courtney (sister) Joey (brother)
When The pigs tried to steal the eggs, Carl was happy about the idea, but when the pigs stole the eggs, Carl saw Tyler and the blue birds crying. He felt something and went to them. He made them laugh, eventually so hard that Tyler... well... You get the idea.
Since then, the Birds and Carl are friends. In fact, he and his dad, Fred, have acctually been trying to help the birds get their eggs back. His User Account Is
Here