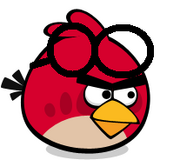 The Marmosets began building forts. Blacky took Action. they Defeated the Marmosets. they met Nico and Pedro, and went to watch Blu and Jewel dance. when the Marmosets Attacked, the Birds had the Advantage. they had the Angry Birds! they won, and Kipo Gave them a Lift. Jewel was Free, and she and Blu had a Figt, she got captured, and The Birds went Save her.
what will Happen? Find out in Carnival Upheaval
Ad blocker interference detected!
Wikia is a free-to-use site that makes money from advertising. We have a modified experience for viewers using ad blockers

Wikia is not accessible if you've made further modifications. Remove the custom ad blocker rule(s) and the page will load as expected.