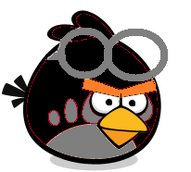 Banger is a bird that has the ability to Explode at enemies. He never met Fireworks Dave. Few birds were alive when he was. The birds split up into two sides. Good and Evil. He was actually the first Angry Bird alive. He was the leader for a few years. If you want to read more about the fight, see
The Fight Part 1
.
List of Good and Bad Birds
Bad Birds
Fireworks Dave (Only one that ever found Entexo and Entexo Jr. after the fight)
Entexo (Never found after fight)
Tro
Entexo Jr. (Never found after fight)
Cop
Good Birds
Banger
Firebird
Smokey
Laser
Ad blocker interference detected!
Wikia is a free-to-use site that makes money from advertising. We have a modified experience for viewers using ad blockers

Wikia is not accessible if you've made further modifications. Remove the custom ad blocker rule(s) and the page will load as expected.