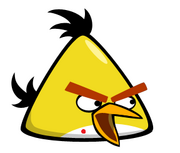 Assassin Yellow Birds are a special kind of dog-bird. they are quick and ravenous, but only eat Ham and sometimes a White Bird Corpse. they Don't talk, But Instead Growl And make low Tweets that sound like barking.
Ad blocker interference detected!
Wikia is a free-to-use site that makes money from advertising. We have a modified experience for viewers using ad blockers

Wikia is not accessible if you've made further modifications. Remove the custom ad blocker rule(s) and the page will load as expected.